Call-to-Actions (or CTAs) reel in and turn readers into customers. However, simply inserting a square with "Click Here" text is not going to cut it. What is even more surprising is that, according to a 2013 Small Business Trends survey, 70% out of the 200 smalls businesses (with 100 employees or less) polled did not have a CTA on their homepage. Find out why you need to incorporate CTAs in your marketing strategy, plus small adjustments you can make to boost your CTA creation strategy.
But First, What Is a Call-to-Action (CTA)?
In a nutshell, a CTA is a button on a webpage that incentivizes readers to do something. Think of it as a non-monetary business transaction—a give and take, so to speak, between the reader and company.
This could be subscribing to a company newsletter to get the latest information in the industry or a free PDF or product in exchange for the reader's email address. In other words, it is a win-win.
Where Should CTAs Be?
If you only decide on placing a CTA on one page, do it on your homepage. That way, you instruct the reader what to do. If not, you risk readers pulling a "skim and leave"—which can affect bounce rates.
Ideally, you should have a CTA on every page. However not every CTA has to be the same; it comes down to what you want the reader to get from the page.
For instance, on the service page, do you want the reader to demo the service? Or would you rather have the reader contact you for a quote? Or what about going to the pricing page to learn more about the different packages your company offers?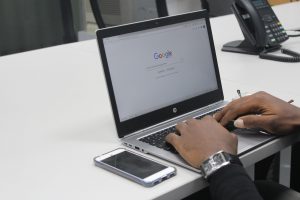 Photo by
Benjamin Dada
on
Unsplash
CTAs and Pop-Up Ads
According to a
Search Engine Land article
, the new Google Chrome browser will block all pop-up ads in the upcoming year.
The reason being, Search Engine Land states, is that Google wants to provide users the best customer experience possible, with a Hubspot survey indicating that right now this is not the case; 73% of users polled admitted to disliking pop-up ads.
What this means is that CTAs on pop-up ads (annoyingly?) inciting readers to subscribe or purchase said product or service may be a thing of the past. If anything, thanks to Google's changes, you can expect to see less of them.
But does this mean you should insert pop-up ads (with CTAs) on your company website? As the survey and the future change in Google Chrome's browser show, maybe not.
Nonetheless, a
study
(by marketing automation company, Sumo) analyzed roughly 1.75 million pop-up ads, with the top 10 pop-up ads bringing in a 9.28% conversion rate.
2 Ways to Increase Your CTA Creation Strategy
Pop-Up ads or no pop-up ads, CTAs will continue to be an important part of your marketing strategy. To make your CTAS more attractive to your readers, find out easy adjustments you can make, suggested by a web-design expert
Lilo
:
1. Color Matters… When You Consider Who Your Target Audience Is
There is a common misconception that each color gives a specific impression. For instance, red is passionate, blue is calming, and green is neutral…
Still, color is important… but it is not as "black and white" (pun intended). According to
Expresstext
, the "right color" pinpoints the consumer's reaction and how they perceive it in relation to the company's brand.
Take brown, for example, which would not work with a women's clothing company. But, as Entrepreneur points out, would be appropriate for a camping company, as brown (in this case) denotes ruggedness.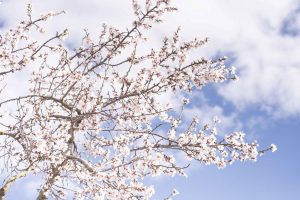 Photo by
Anna Jiménez Calaf
on
Unsplash
Cultural Differences on Color
Then again, you have to consider your target audience: What is their culture? What are their experiences? Are they men, women, or both?
For instance, in the US pink would not be appropriate for a professional men's football team. The reason being comes down to American's impression that pink is more feminine and should be for girls, while blue is more masculine, and should then be for boys (while ironically in the past, it was the
opposite
).
According to
The Japan Times
, Japan is obsessed with the color pink, connecting it to the cherry blossom—Japan's unofficial flower.
Unlike the US, in Japan, it is perfectly appropriate for a professional men's football team to wear pink jerseys. In fact, Cerezo Osaka, a professional Japanese men's team, does.
Gender Differences in Color
And then there's gender. Entrepreneur goes so far to state that, while men and women both like blue the best, in general, women like colors that have shades of white in them. Men, on the other hand, like colors with shades of black.
How Does Culture and Gender Relate to Your CTA Creation Strategy?
Knowing your target audience's culture and gender will help determine what color(s) to make your CTAs.
Perhaps a company with a demographic base of Japanese men could consider dark pink CTAs? While a camping company that has a target audience of American women may go with light powdery brown?
At the same time, it is important to factor in the colors of the logo and on the website. The first company may not want dark pink CTAs if their logo and company website has several shades of pink. Which brings us to…
Contrast, Contrast, Contrast
No matter what color you choose, it needs to contrast against the rest of your website. You want it to stick out so your readers have an easy time seeing (and clicking) on it.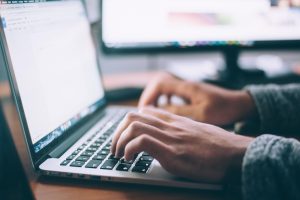 Photo by
Glenn Carstens-Peters
on
Unsplash
2. Make the CTA Specific and Reader-Friendly
How does the reader benefit by clicking on your CTA? What do you want the CTA to accomplish? In answering these questions, you can figure out what the CTA message should be.
Also, aim for a big font. (This goes for text in general). A
1929 study
indicated that people had the easiest reading 12-point font. (Of course, this was for non-digital text). Nowadays, that number (especially when it comes to digital print) is bigger.
Final Thoughts
It is crucial to having CTAs on your company website; they help conversion rates and increase profits. Have any more CTA creation strategy tips? Leave a comment.
Read More