As a website designer, every project is unique. In fact, as a professional, you are regularly expected to provide something better than your previous effort. With the market becoming extremely competitive, creativity is always a bit part of this job. The worst moment happen when that imaginative spark required to start off a project goes missing. Still, there are many places such as this page where you can draw some inspiration. Apart from that, there are other premium websites where you get lots of inspiration to build a classic website and web design companies such as Absolute Summit has great templates on their site. We've put together a list of some of the best sites to find website design inspiration for you below: (Don't forget that in order to rank these websites you will need SEO, check seo bournemouth services for more information)
Best Website Gallery (BWG)
The website which is managed by David Hellmann is a unique meeting place for web design inspiration. If you're developing a premium website, this is the perfect site to visit whenever you need to unlock your power of imagination.  Although the website was start in 2008, it has grown to be relied on by millions of web designers across the world looking for inspiration. What makes it popular is accessibility of information. BWG uses a robust tagging system that makes it very easy for the user to find inspiration based on the functionality, style and design approach. With more the 2,000 top quality website to peruse, this is indeed a great place to visit.
CSS Nectar
Apart from incredible inspiration, this is one of the most user-friendly websites to visit. CSS Nectar is one websites that makes the finding web design information for specific sites very easy. With its tags and filters, you can easily find inspiration based on category, colour tags, feature, and country. What makes CSS Nectar popular and attractive designers is the triple-vetted content. First, the user is required to pay a fee to submit a website for review. This is meant to prove that people are confident with the website. Second, the submission is reviewed and finally, it is voted by the community. This system gives the sites feedback so it's easy to see what people like and don't like about the digital art and design of each site.
Abduzeedo
The website whose name simply means "abducted" in Portuguese, is about a decade old. Over the years, it has helped hundreds of web designers. What has made it popular among designers and creative professionals is its regular updates. There is always something new for the users to see. The website boasts of having an array of inspirations regardless of the website that you are creating. You'll be impressed by the quality of information that the website has. A visit to this site will help in triggering your imagination with brilliant ideas. Apart from digital design inspiration, the website also offers other inspirations such as photography and architecture.
Behance- Discover
Visit this website and you will find massive amount of
website design
inspiration from their creative community. It is very easy to locate the design you are looking for by either looking for popularity, location and timeframe. For instance, you can search for the "most appreciated web design in Brisbane, Australia". The fact that it's part of the adobe family of companies, its' probably the world's most active creative community. Its detailed filtering options make it one of the most visited sites by web designers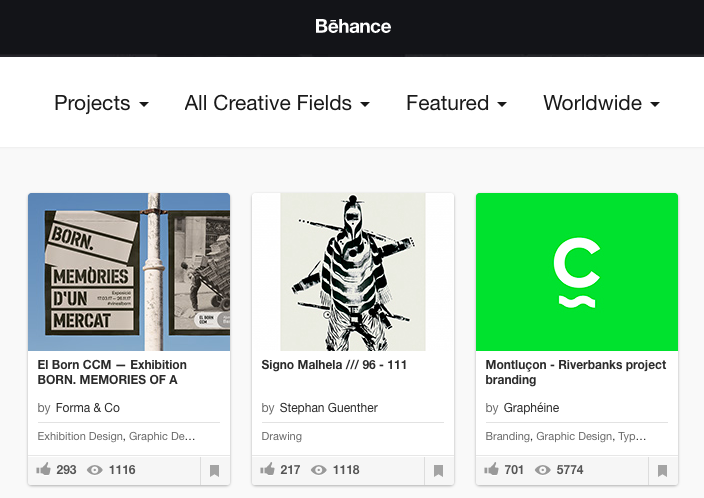 and creative professionals. Try it and it will unlock your creativity in a great way.
Awwwards
The website provides a unique place for web designers to draw inspiration. The website is managed by a group of international creative who rewards those that submit the highest quality of design. This is what makes the quality of inspiration from this website incredibly high. The jury that awards the best site ideas is hand-picked to ensure that quality is maintained. Apart from the website looking pretty, they also consider other factors like creativity, content, usability and site design. Awwwards has one of the most robust tagging that makes it easy for the users to find the inspiration they are looking for.
Designinspiration
If you are stuck with a
web designing
project, try this website and experience the magic. Created in 2010, the website has been home to many web designers worldwide. The site provides a perfect place where web designers can discover and share information. The site curates and maintains only high-quality content. It's a user-friendly website and you can easily search information by topic tags or colour. The site also allows the user to organise and save things that they like on the page.
Read More